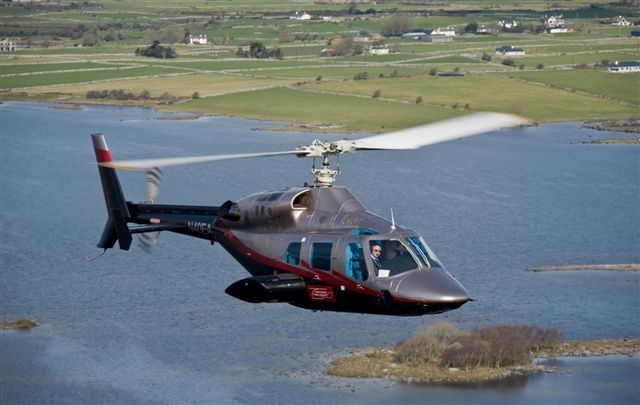 Executive helicopters – Irelands Premier Helicopter Hire and Charter Company
Licensed and approved by the Irish Aviation Authority and the Department of Transport
Founded in 1998,
Executive Helicopters
is in existence for over 12 years and is one of Irelands most successful and experienced helicopter company's. Based in a custom made 15,000 sq ft Hangar facility at Galway Airport , Executive's Charter division offers an elite fleet of aircraft ranging from single to twin-engined aircraft, capability of catering for all group sizes and boasts an impeccable safety record. Services range from:
·Heli Golf - Executive are members of IGTOA AND IAGTO. Maximise your itinerary while enjoying the magic of the breathtaking scenery along the way. With the experience of Executive Helicopters you are choosing the perfect option to making the logistically impossible distinctly possible. Who hasn't dreamt of playing 18 holes at Ballybunion in the morning and following that up with 18 holes at Royal County Down in the afternoon?
·Business and Corporate - Need a highly professional and confidential company to get from one business meeting to another, We can make all necessary arrangements required, from landing permissions to efficiently meeting all your corporate paperwork requirements, to the simple professional touches.
·Airport Shuttles - be escorted by a handling agent from arrivals to your waiting helicopter and be flown direct to your destination, reduce jet lag and fatigue by avoiding unnecessary delays.
·Events - Executive Helicopters can provide everything from ground handling & fire crew to acquiring all the permissions and approvals needed to operate such ventures in a compliant and safe manner, including the availability of our air ambulance
· Scenic- Enjoy some of the splendors of Ireland with scenic flights such as the Cliffs of Moher renowned throughout Europe
Contact one of our Representatives:
Phone: 091 783300
Fax: 091 755588
Website:www.executive-helicopters.com
Email: info@executive-helicopters.com